Easily one of my favorite shows, The Twilight Zone is easily the best to watch when you want to dive into the subconscious mind by going into an alternate universe. The show features vignette style episodes that deal with a variety of macabre topics including aliens, time travel and apocalypses. I grew up watching this show with my parents, and I have many memories watching it on on New Years when they have their marathon on Syfy,
The season change, or rather "season change" in Columbia, has made me want to do nothing more than curl up in bed with hot chocolate or coffee and watch this show. The fact that the show is black and white (it started in the early 60's) just makes it better; the old school glamour of this show is unparalleled. Rod Serling is the mastermind, and narrator, behind The Twilight Zone; he  has also been featured on Breathing Fashion because he is so classy and dapper.
I couldn't resist creating a few looks inspired by some of my favorite episodes.
The Number 12 Looks Just Like You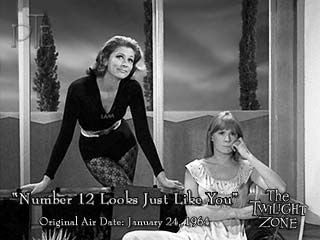 In this episode everyone goes through "the transformation" when they turn 18. Like the book The Uglies, everyone looks the same; as soon as you're of age, you undergo surgery to look like one of the number of models there are to pick from. But what happens when you think you're beautiful before the transformation? What if you don't want the surgery? These are the sort of problems that arise in this episode of The Twilight Zone
Twenty Two
In this episode, Liz, a "dancer" is hospitalized for being delirious and having reoccurring dreams. In this dream, she wakes up suddenly, only to break a glass, hear the clock ticking and hear footsteps down the hall of the hospital. When she gets up to follow the footsteps she sees a nurse disappear into the elevator. When Liz gets on the elevator to the bottom floor, she gets of and she walks down the hall only to be greeted by the same nurse who's standing in front of the morgue and who greets her with one sentence; "there's room for one more honey". What exactly does this mean? You'll have to watch the episode to find out.
Come Wander With Me
In this episode of the show, a man drives to the woods in an attempt to search for inspiration for his newest folk hit. He finds a guitar shop and a woman with a haunting voice. He hears this siren singing a beautiful song and he tries to steal it from her. Things don't go as planned, and how could they, in The Twilight Zone?
What's your favorite episode?
Namaste
Gabriela